Email #1
HI….I WOULD LIKE TO PURCHASE THE CHARTS FOR THE YEARLY POSTCARDS TO BE DONE IN CROSS.STITCH.

COULD YOU PLEASE TELL ME IF YOU HAVE IT, HOW MUCH IT IS AND IF I CAN PURCHASE IT DIRECTLY FROM YOU.

THANK YOU VERY MUCH.

XXX
Seguono decine di richieste al server per reimpostare la password con relative email automatiche del sistema. Lei decide di provare a ragionare con il sistema, dicono funzioni, a volte.
Email #2
Yes I did receive it and it is absolutely ridiculous to continue giving you my e-mail and password for the last hour.

I am only interested in a chart of Postcards of the World graph for cross-stitch worth approx. $20.

If it is not possible, thank you but I do not plan to continue wasting my time without getting no where. What is

the problem?¿?¿?¿

Sincerely,

XXX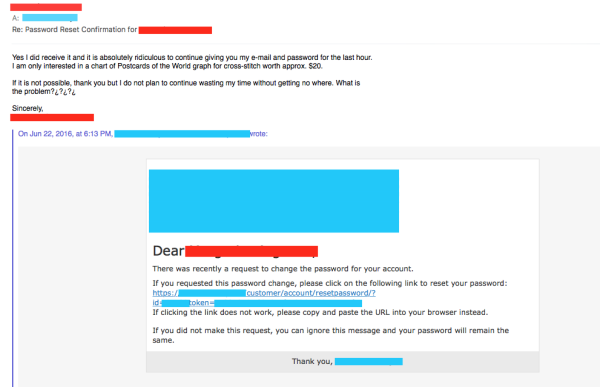 Cara XXX, ho il dubbio che tu stia usando il modulo di reinvio password a posto di quello di login. I risultati possono essere sconfortanti, lo capisco. Invece di "continuare a darmi la tua email e password per ore", potresti provare a leggere le scritte rosse e in grassetto che compaiono sul tuo schermo.
Le spiego che si era già registrata 15 giorni fa, le do il link all'oggetto che cercava, e dico di cliccare sul link nell'ultima email di richiesta password e poi accedere con la nuova password... Lei cosa fa? Fa un nuovo account con un indirizzo email sbagliato.
Email #3
Hi….now that I got the password and was ready to pay,…..you ask me for the confirmation link. I did not find it in my regular or trash file. Per forza, l'indirizzo email è inesistente...

You want sooooo many steps (3) to make a purchase ……that it seems you do not want to sell. Si noi facciamo così, facciamo di tutto affinché i nostri clienti non comprino da noi. Infatti prima di essere considerato degno di comprare qualcosa devi superare le 7 quest del drago di sangue del monte Mordor e la discesa nel regno degli inferi. Se vai e torni vivo portando sulla testa un bicchiere d'acqua senza versarne neanche una goccia, allora puoi accedere al negozio.

Sorry you cannot accept my payment.

Keep well

XXX
E... Email #4
Hi….I have tried to get through your page to finalize my purchase but you keep asking for the password (si sono proprio io che sto là davanti al computer a chiedere la password ogni volta che qualcuno vuole entrare. Oltretutto, speravi che IO dopo un po' smettessi per sfinimento?). I have submitted it at least 50 times this morning and I cannot get through the payment page.

Why is it so difficult with you to purchase the graph?¿?¿?  I do not understand (questo l'avevo capito). If you want to sell another graph of the "Postcards of the World" please contact me because I am very interested. 

I cannot go through this everyday. Send me an e-mail with the billing page……..you already have my password 50 times over.
Si vabhé. Ci rinuncio. No, in realtà le ho rispiegato tutto da capo per la terza volta e alla fine ce l'ha fatta!!!!